Kev and I decided that we were going to hit up the outlets in Lancaster immediately after work yesterday. I rushed home, we grabbed our list of 'needs' and headed out the door. We chatted along as we cruised down 202 to 100, slowed a little as we approached Exton, but what else is new. As we circled around on the on ramp to 30, we stopped dead in our tracks. Literally. It was nothing but bumper to bumper traffic. Uh oh... Now it makes sense why we passed a guy backing down the on ramp! Well a few (okay it was more little 10) minutes later we had creeped up far enough to the south bound traffic on 100 merges on and found ourselves follow a slew of others and backing down the ramp. So glad there weren't any cops around!
We cut over to Boot road, planning to take 322 to 30, hoping that would bypass the accident or whatever was slowing (stopping) traffic. Soon we are sailing along again, only to slam on our brakes as we cress a hill. What the heck!!!?!?!? Not sure if it was the one lane pass, or the stop light at Quarry road, but it took us 10 minutes to get through and on our way. Luckily, the rest of the ride out was uneventful!
Our first stop was Rockvale. Even though I grew up 5 minutes from there, I was a dork and printed out a directory map and we checked off all the stores we wanted to hit up while we drove up there. Yes, I plan things out a little too much sometime. I went to my stores, he went to his, and we met up starving and ready for Tanger. Kev got some great deals at Van Heussen and left with 2 new dress pants for school for just over $30. I got this super cute baby doll tube top at Ann Taylor for $8. There aren't any pics online and I forgot to snag one at home. It's pink and white and very summer.
After a 5 minute debate on where to eat we settled on Panera. Who doesn't love Panera? I was excited when our bill was over $10, because I had just read over at
Steph's blog
that you can register it online for a free ticket to the zoo! How sweet is that? I don't know if they've reached their limit yet, but it's totally worth a try!
Once again we parked and went our own ways. One thing I have been realizing more and more when I go shopping is that I have a hard time shopping. I can fit into the clothes at the teeny bopper shops, but I feel like I'm too old to wear stuff like that. Like I tried on one dress that I really liked, but something was off, and I think it was because it was slightly too short. Okay, does that make me sound old now? Plus, most of them are cheaply made and don't last long. A top or two are fun, but any more and I really look like I belong back in high school. My dilema is that women's clothes are too big. Sometimes I can get petites to fit, but most places lack much more than a little corner of selection. My stores are limited to The Loft, BR/Gap/ON, Express, and NYC (which sadly neither of the latter have an outlet). I really wish we could have more money in our shopping budget because I would seriously buy everything at Banana! I love that store!!! After browsing and trying on, and more trying on, and a tiff with the hubby, and more trying on, I walked away with a super cute pair of white shorts, very similiar to the ones below, but Berumda style, and a dark green blouse, again similiar, but not exactly like below.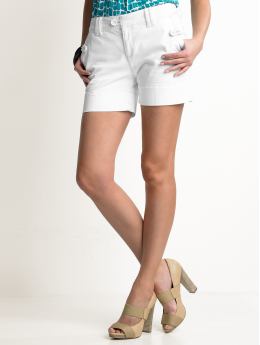 These two typically retail for $102 (ouch!) but with markdowns and a coupon I only spent $25! Schweet!!!
We then swung by my parents house to surprise them since we were so close. I had talked with my one brother earlier and had planned to steal his big suitcase for Florida since my had a tear in it from the last time I flew, and I didn't want to risk stuff flying out of it. We didn't get home from our excursion until close to midnight, but it was a fun trip to make on a week night!!!