That's what my baby is doing.
Yup, that's right, he's STANDING!!!
He's been trying to pull himself up on stuff the past few days, but he's a full out pro now. So much so that 2 evenings ago I went into his room to get him after a nap and he was S.T.A.N.D.I.N.G. there! Wha!?!?! My baby? Standing in his crib!?!?
Once he does something, he just keeps doing it and doing it until he has totally conquered it and is ready to push on to the next thing. Like rolling. Or crawling. He's only been pulling himself up to a stand the past few days and already he's trying to stand on his own.
I miss my baby :-(
Oh, and I'm working on his 7 month post...just need to take his photos this morning since we were out all day yesterday. (
Side note
: we got Kev's car inspected yesterday and it's the first time EVER that we didn't need any repairs done for it to pass! And we had a AAA voucher that needed to be used, so we paid a total of $10.02 for the inspection! Swwweeeeet!!)
Oh, and I'm also linking up to the Fall Follower Fest which you can link up here if you'd like :-)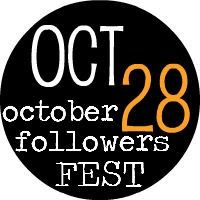 For anyone checking out my site HI! and here's a bit about me:
My name's Renae, I'm wife to Kevin (who sometimes post on here), mom to Logan who just turned 7 months yesterday, and we have 2 cats and just got a dog 2 weeks ago. Crazy I know. We bought our first house just over a year ago via a short sale and have been working on making it our home. I love making new friends (IRL or on blogland) and I am so looking forward to finding some new blogs to read!